I made this pretty keyboard and mouse layout with my keybinds.
Clickie to enlarge (and make the text more readable).
The

gray-hued buttons

are keybinds I typically use the keyboard to access.
The

brown-hued buttons

are keybinds I typically use the mouse to access.
Unlisted abilities like tranquility, buffs, and resurrections are just clicked on action bars.
Macros are used to enable multiple abilities on each keybind using [form:x], [spec:x], [stealth], and [mod:x] to differentiate among them. You can find links to most of my macros in the dropdown menu at the top of the page.

I use

Bindpad

and

Bartender

for most of my keybind needs. I like to swap to vehicle/posses keybinds for my main 4 buttons (q, M3, e, and t) and Bartender lets me do that by applying the keybind to the action bar slot, rather than applying the bind straight to the macro as Bindpad does.

KEYBOARD
I use an old-school
G15 keyboard
from LogiTech with 18 extra keys along its sides. I use 3 of these for most of my characters, though I am branching out to the G11 key with a couple of alts (too many darn totems!). The newer G15s are backlit orange (mine is blue) and have fewer side keys, but they are in easy reach.
I have shift-A and shift-D bound to strafe left/right to make up for rebinding q and e.
I just am not comfortable reliably pressing z, x, c, and v while moving around in combat.
left-CTRL is my Ventrilo push-to-talk, so I don't use it as a key modifier.
I use the numpad for quick-swapping gear sets.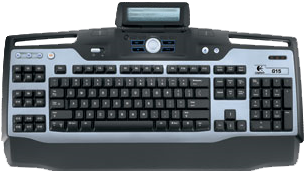 MOUSE
I use the
WoW MMO gaming mouse
from SteelSeries, which is shiny and comfortable and jam-packed with 15 buttons (counting left/right click and scroll wheel). I will probably expand to different binds on the thumb-pad as I grow more comfortable with the mouse.
The UI for mapping the mouse's buttons is a complete pain, because it refers to the default actions each key is bound to in-game, rather than the actual keystroke. It was worth the headache to set up, though.
The "steel" coating has started to peel off from where my palm rests, after 3 months of use. A bit of an annoyance, but it doesn't impact the mouse's operation. The LogiTech gaming mice had similar problems, but only after a year or more of heavy use.
The spines light up and glow. You can choose the color and pulse speed and such... I chose blue to match my keyboard's back-glow, though sometimes I change it up for giggles.