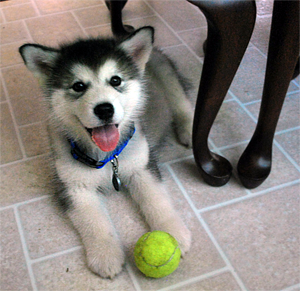 My puppy! She came home this weekend and has spent the past day charming her mommy and daddy. Little River is 7 weeks old and a complete ball of fluff.
Things she likes:
Mommy's socks
Fans
Cat Toys
Belly Rubs
Cool floors

Stepping in her water bowl

Attention
Chasing her tail

Sleeping on her back...

The whole litter is adorable, but I'm biased: River's the best.
In spite of many looking identical.
...
/squee